Assessing the soundness and effectiveness of UC business operations, both at the individual campuses and Universitywide, demonstrates the University's ongoing commitment to:
10
Set goals and assess progress in attaining them
Identify responsibility and accountability for business processes
Verify that efforts are producing desired outcomes
Identify opportunities to reduce uncertainty and to improve operations
Be responsive to the expectations and needs of those we serve
Build a foundation for good decision-making with current, accurate information
Share know-how and expertise among the campuses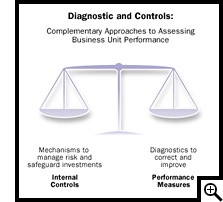 Measuring the performance and effectiveness of UC business and administrative units and departments consists of:
Measuring performance in terms of quality of service and results to the customer
Benchmarking the performance of UC business units to similar departments or functions in other organizations
Measuring objectives and risks in terms of business impact, timing and probability
Measuring controls in terms of efficiency and effectiveness
Currently, the University faces several challenges that need to be addressed by the New Business Architecture:
Performance data are not readily available in many business areas
Organizational boundaries constrain staff's sense of ownership and responsibility for results.
Department managers do not always recognize risks and weaknesses in the processes they manage
Anecdotal information (versus performance data) is sometimes used to substantiate business decisions
Identifying the cause and effect relationships that can lead to change and operational improvements is too difficult
Internal Controls
The New Business Architecture must ensure that administrative departments have current and meaningful information with which to make good decisions that will result in operational improvements and understood risk and exposure. Responsibility and accountability for financial and managerial controls must be explicit in all business processes and systems in the New Business Architecture. With increased understanding of risk and control issues within the University, a transition to a business portal-based model for the delivery of business and administrative services will ensure that reasonable monitoring and oversight mechanisms are in place and effective.
The University of California must engage in continuous self-assessment to clarify business practices and to identify opportunities for control improvement for risk factors at both the Universitywide and individual campus level. Many of the internal controls priorities identified by UC senior administrative management, both in the Office of the President and at the campuses, are critical success factors for the New Business Architecture. These include:
Managing the impact of enrollment growth on administrative organizations;
The continued distribution of functions and activities to the campuses;
The increasing complexity of policy and staff guidelines; and
The need for a comprehensive approach to employee training and development.
Other focus areas of the UC Internal Controls Initiative include proper stewardship of funds; effective management of UC sponsored research and medical center administration; and critical oversight of business partnerships with external organizations.