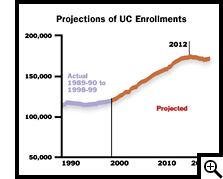 Explosive growth, changing demographics, and a thriving economy driven by advancements in technology have pushed California, once again, to the forefront of a changing world.
In the early '90s, UC administrative leadership, anticipating less support in a time of economic recession, proposed a new blueprint for UC administration.
1
That new vision, a "network" organization model, introduced strategies to reduce administrative costs, overhead and complexity; to decentralize decision-making; to increase collaboration across organizational boundaries; and to harness information technology to improve administrative services.
Today, a decade later, many processes have been streamlined and automated, and desktop applications such as e-mail, Web access, and personal productivity tools are becoming ubiquitous.
2
However, limited resources for administrative support budgets have made it challenging for staff to accommodate changing and growing workloads.
Nevertheless, the changes made to UC's business operations in the 1990s, as significant as they are, will not position UC administration for the anticipated challenges of this next decade, including the unprecedented growth associated with 60,000 additional students and 7,000 new faculty members by 2010.
3
In order to support this significant projected growth, UC must begin to put into place a New Business Architecture that will scale to meet the challenges driven by enrollment growth, technological advances, and the rising expectations of our constituents. As the New Business Architecture evolves to better support basic administrative operations, it will offer similar opportunities in the administration of such mission critical activities as sponsored research and student services.